ChatGPT and other AI tools like Google Bard and Jasper Chat have taken the world by storm. Marketers, developers and even lawyers are taking advantage of the AI-powered language model. From content creation to brainstorming, ChatGPT is like a hidden superpower that helps you get task done faster and enhance whatever you are doing.
Here are 10 practical ways how ChatGPT can help your online store.
Write code for your online store
Need to change some code for your online store, but don't have the skills of a web developer? No worries, ChatGPT can do that for you.
For example, if you want to remove the address fields in the WooCommerce checkout, just ask ChatPGT to create the necessary code.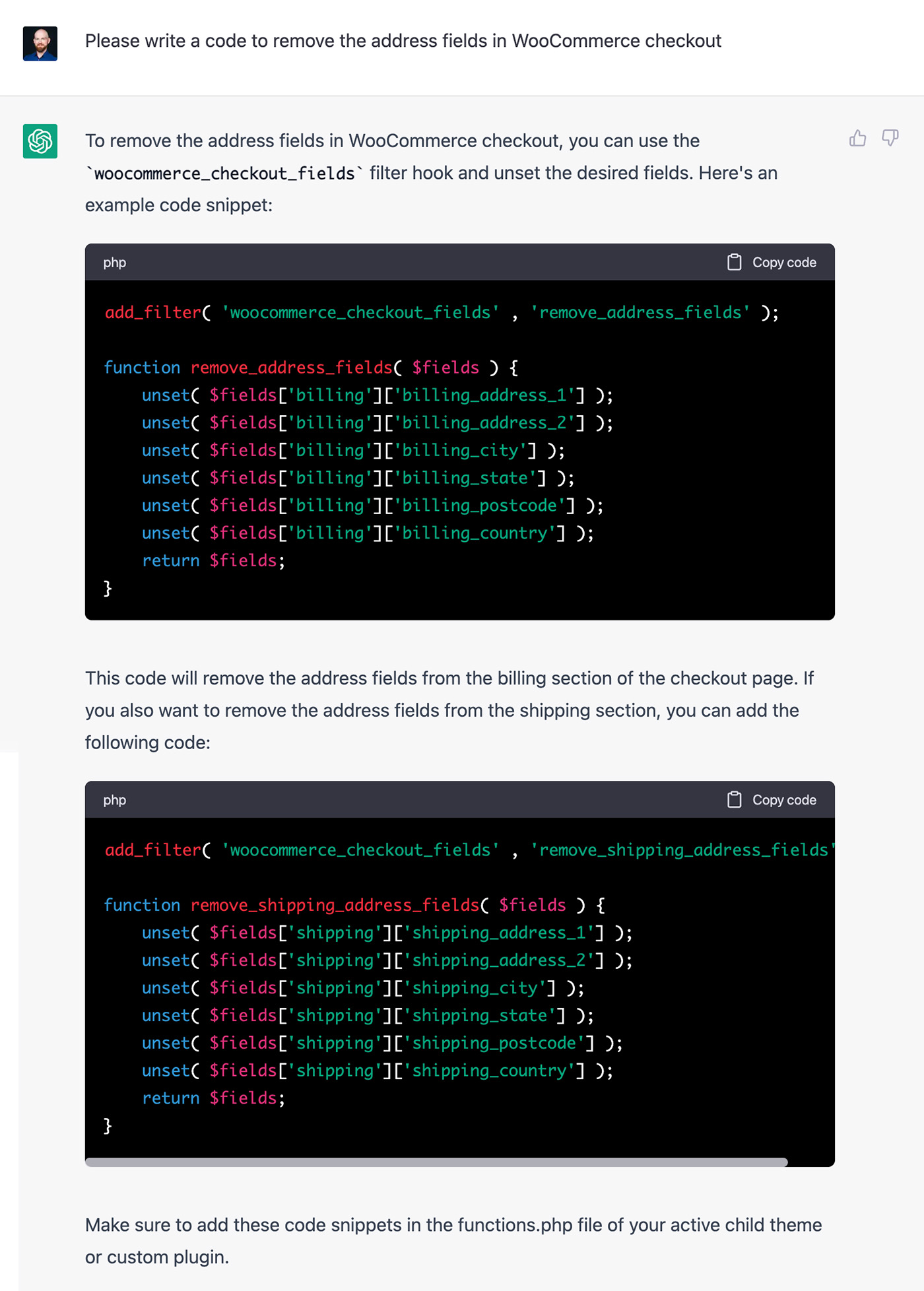 ChatGPT remembers the whole conversation, so you can ask follow-up questions, too.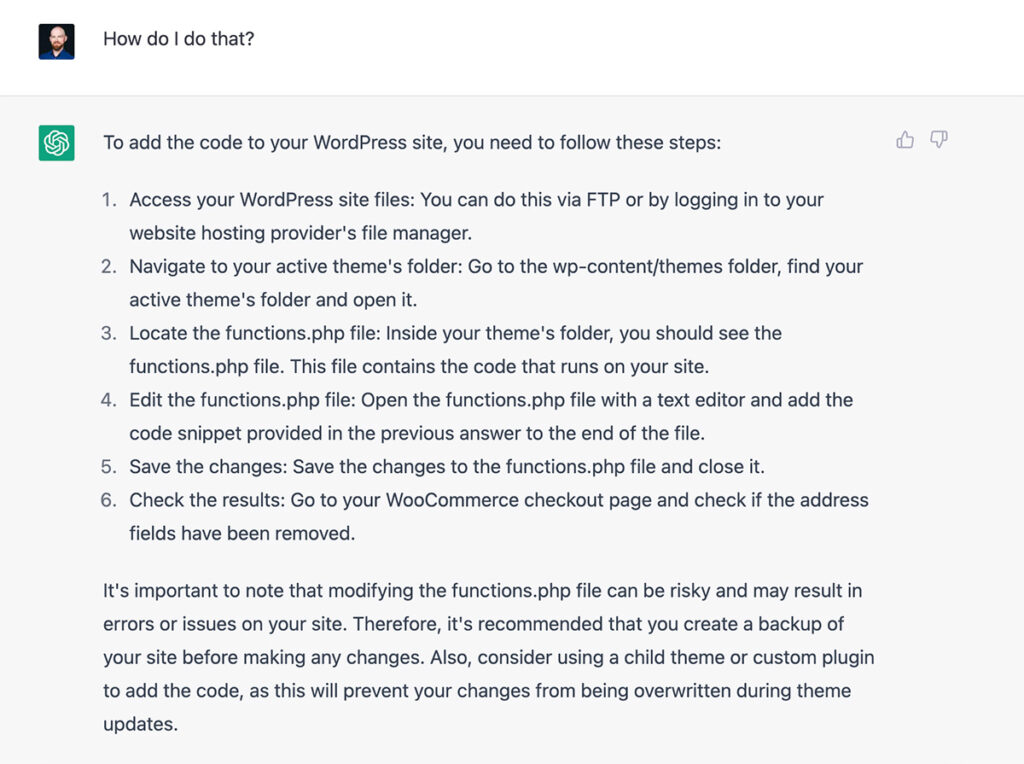 Write product descriptions
Product descriptions are crucial to any online store as they help potential customers understand what they are buying. You don't need a copywriter or an assistant to create them for you–ChatGPT can help you create compelling and informative product descriptions that will entice customers to make a purchase.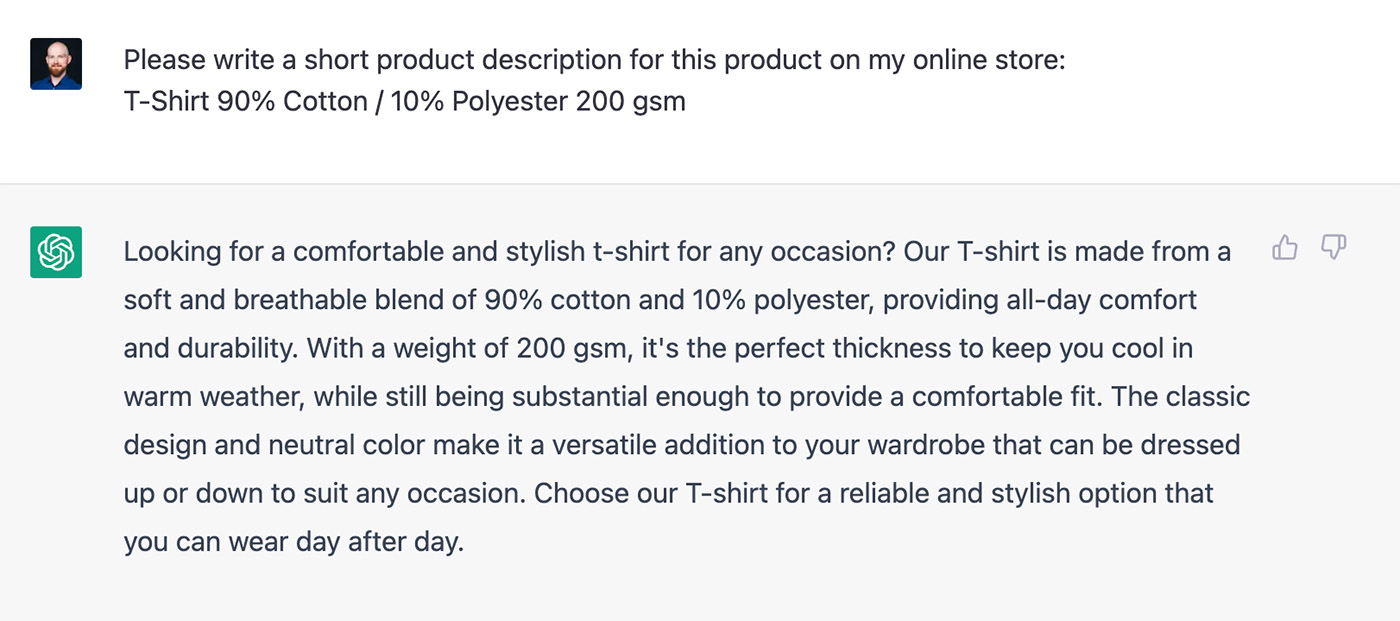 It can even use the spec sheet to create more informative descriptions.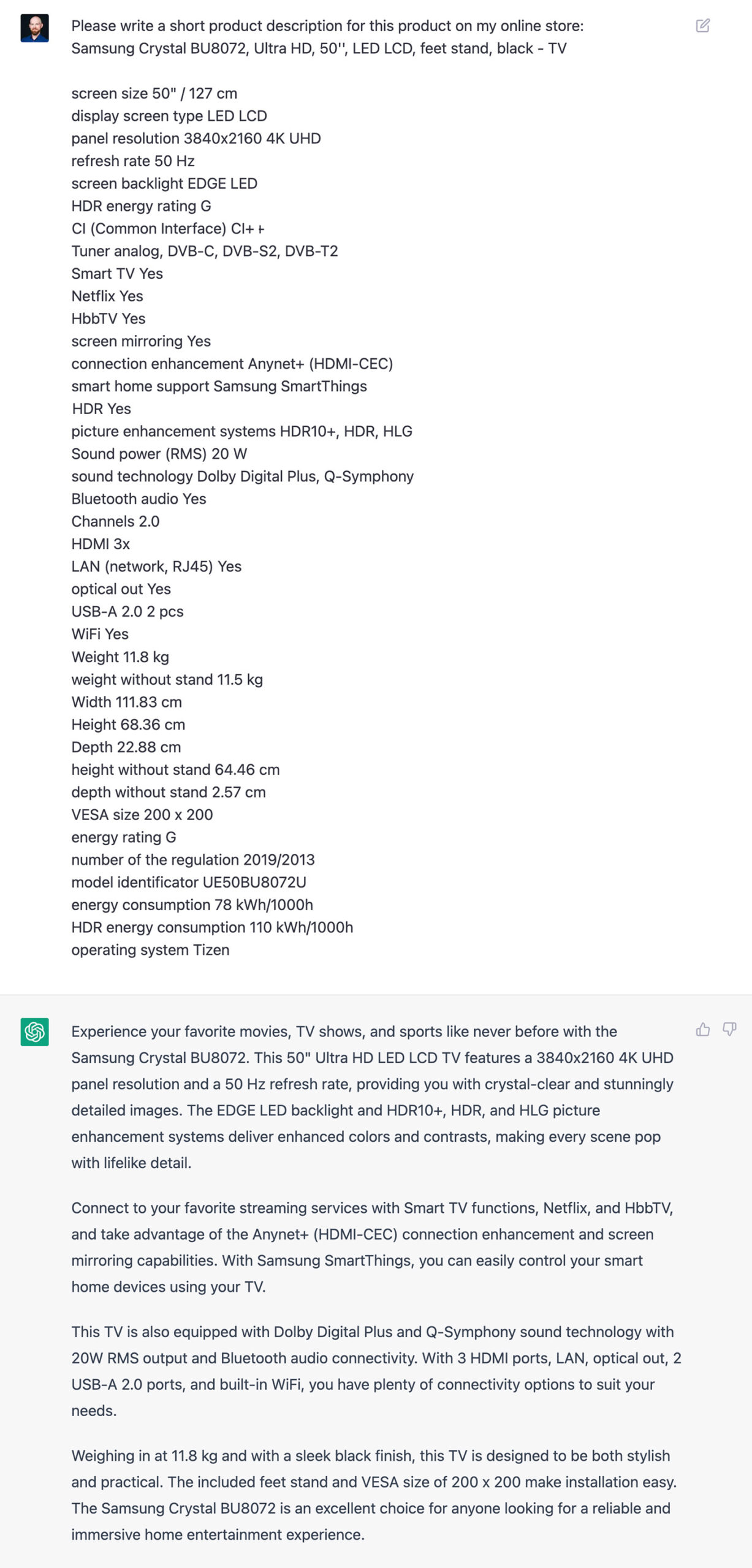 Too long? Ask ChatGPT to narrow it down.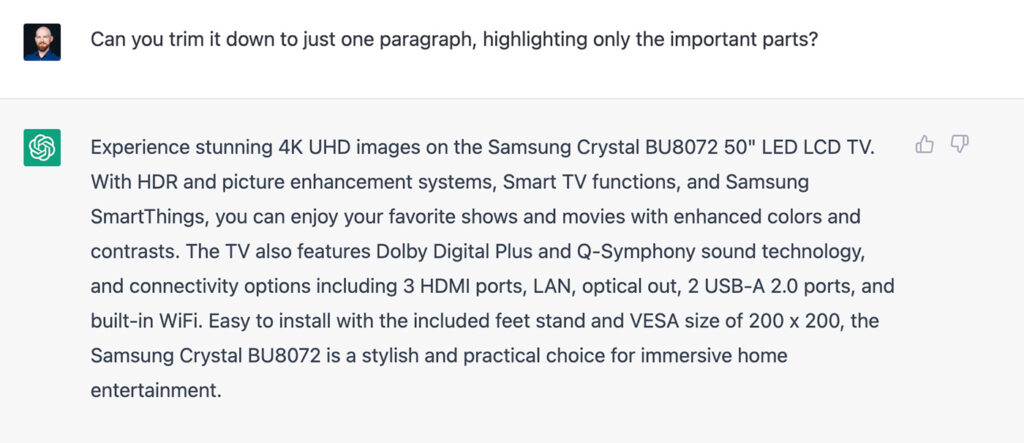 How long would it take you to go through the specs and write a product description like this?
Social media strategy & content
Almost all online stores use social media to promote their products, but it can be time-consuming to come up with a strategy and daily content. ChatGPT can take over as a social media manager and help you with the content that will engage your audience and drive traffic to your store.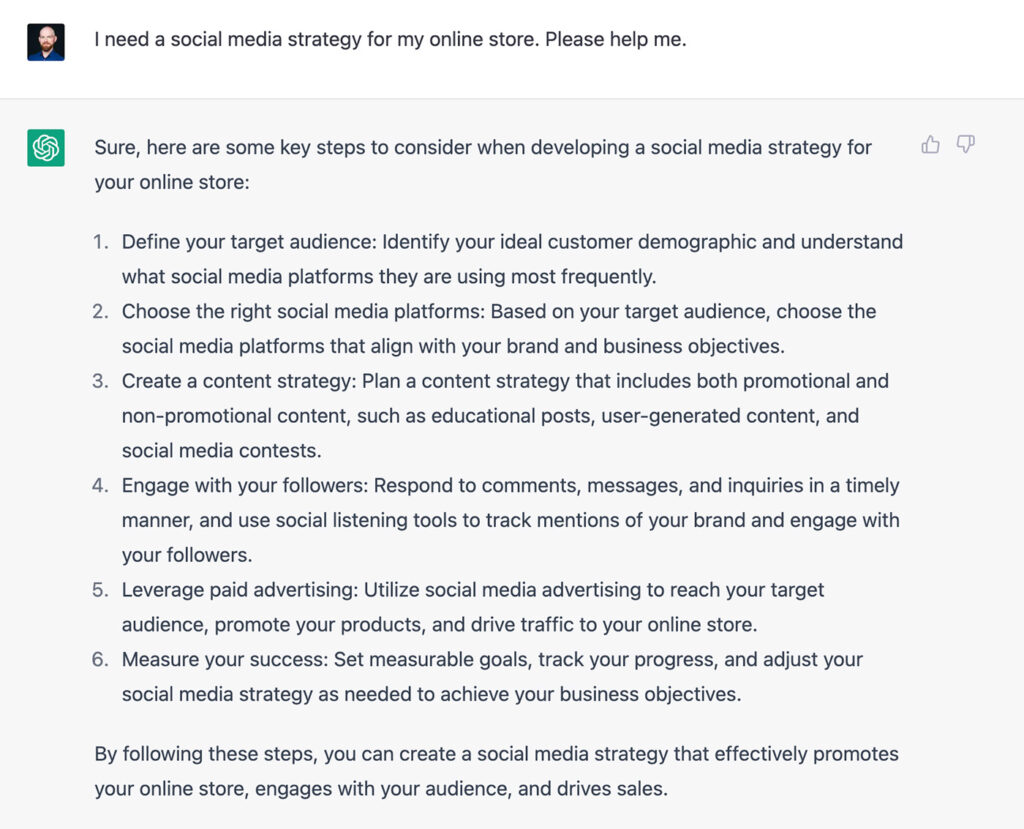 Too theoretical? Ask ChatGPT to make it more actionable.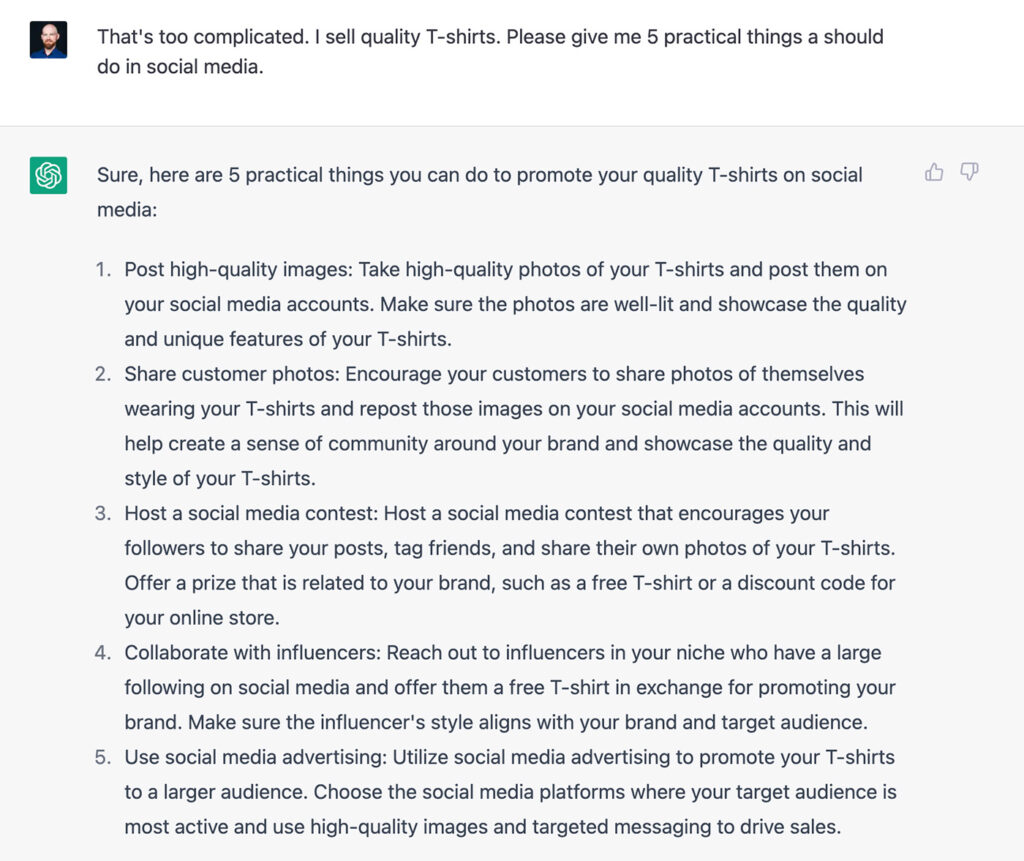 If you are out of Facebook post ideas, ChatGPT can help you out.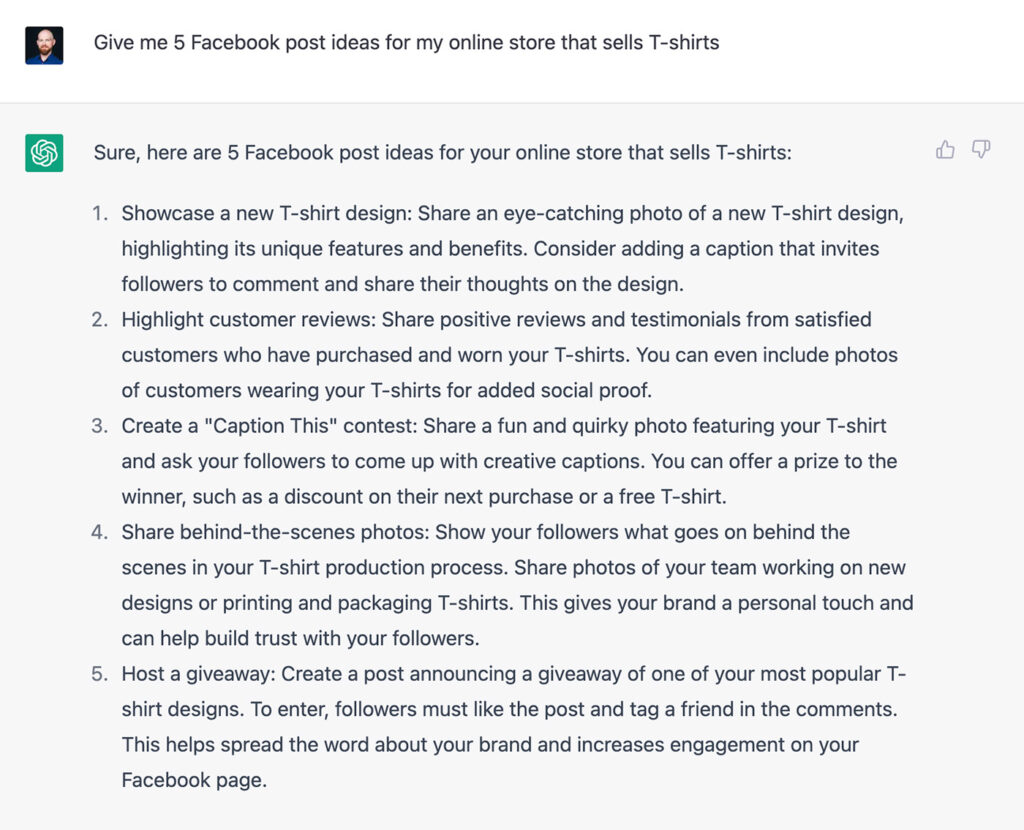 Create emails, landing pages, and blog content
Emails, landing pages, and blog content are essential for online marketing, but they can be challenging to create. ChatGPT can help you create high-quality and engaging content that will keep your customers informed and engaged. Just look how easy it is!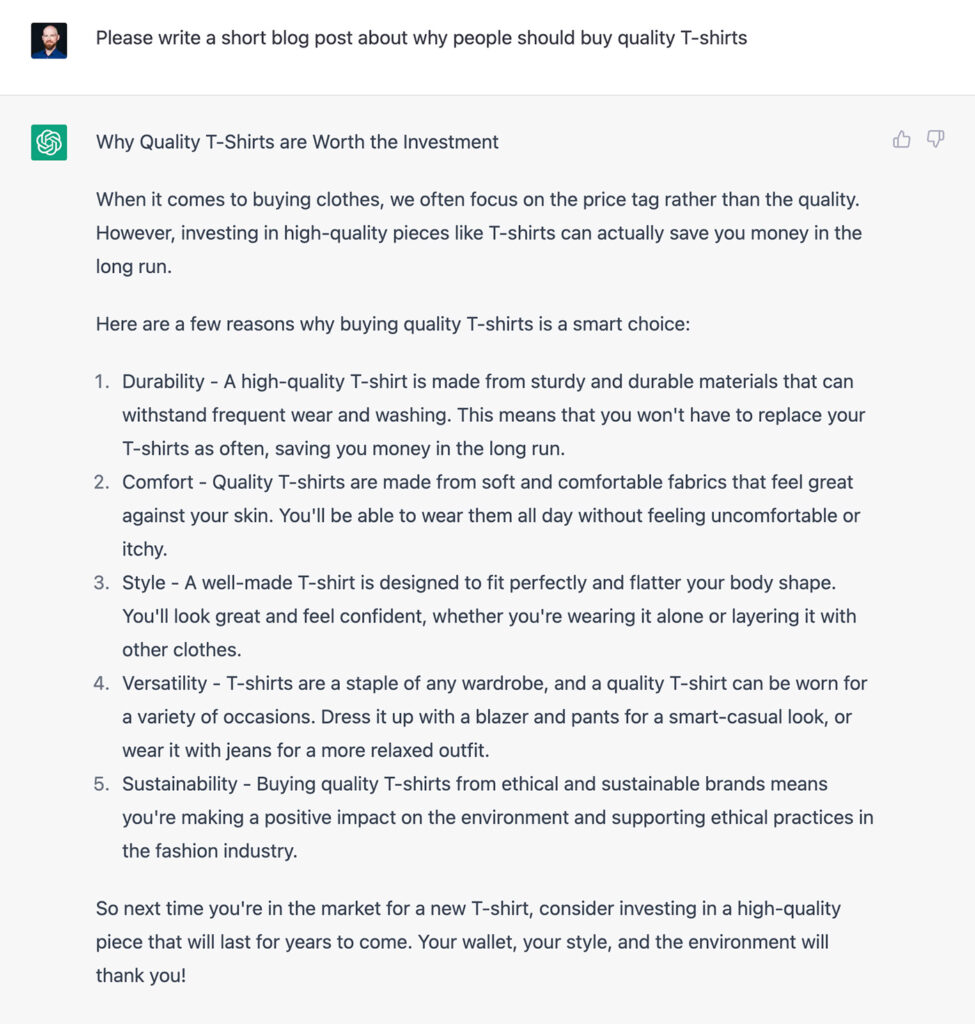 Create ad copy with a strict character count
OK, so ChatGPT can craft longer texts, but what about ad copy with a strict character count like Google Ads? ChatGPT can help you create ad copy that is effective and within the specified character count limits, helping you get the most out of your advertising budget.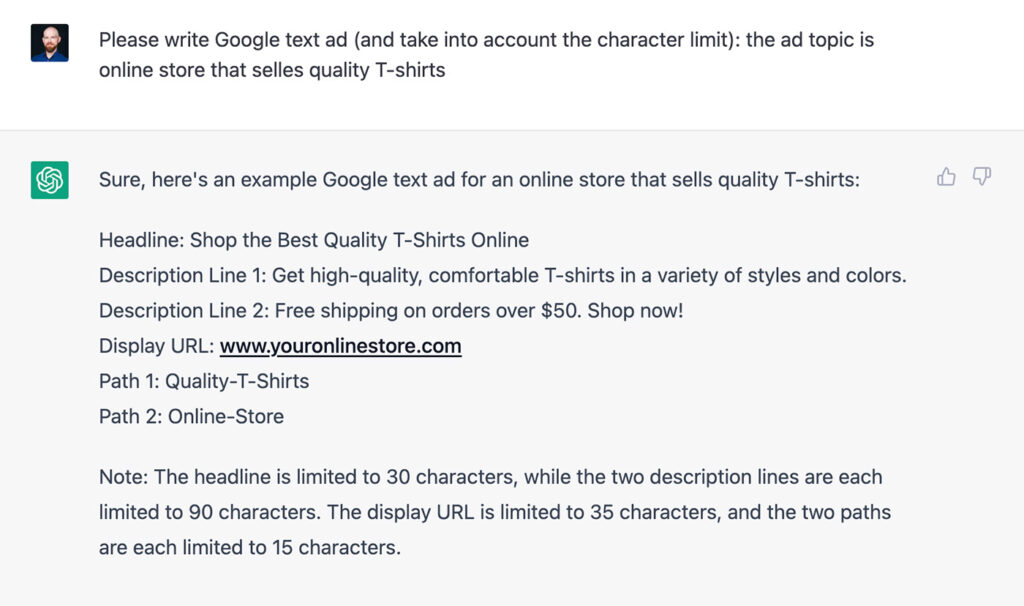 AI-powered language model can also translate the text AND take into account the character limit.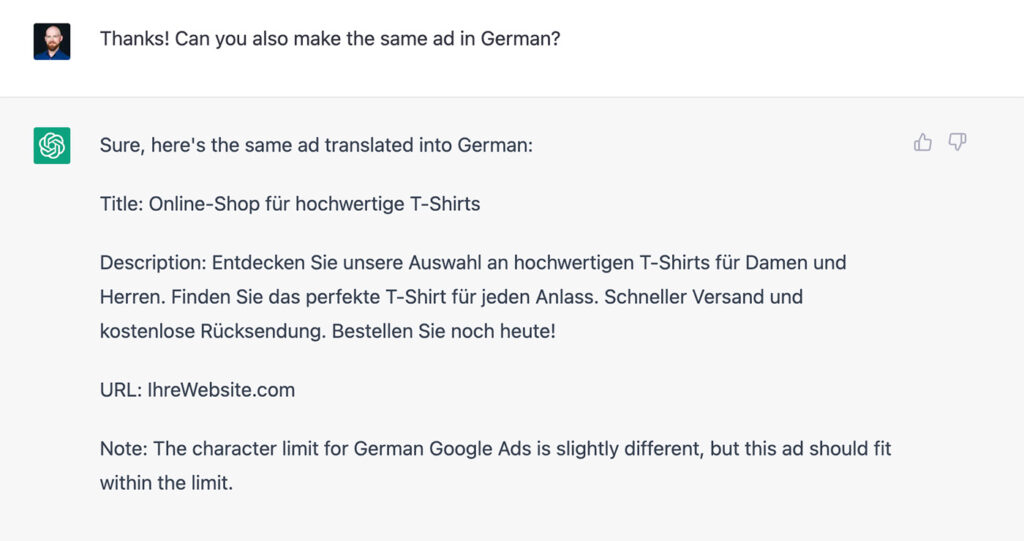 Danke schön!
Editing and proofreading content
Having grammatical errors or typos (or just badly written sentences) in your content can damage your store's reputation. ChatGPT can help you edit and proofread your existing content to ensure that it is error-free.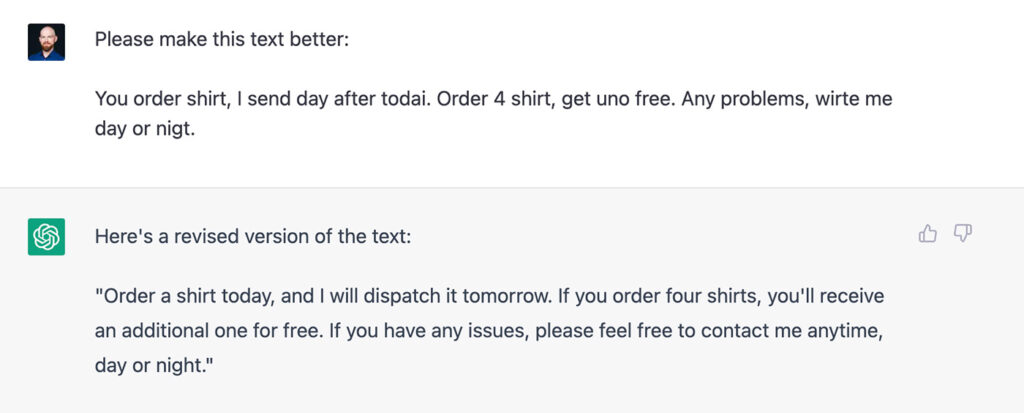 Write FAQ
Frequently asked questions (FAQ) can save you time and reduce customer support queries. ChatGPT can help you come up with the questions and write a comprehensive FAQ that will answer your customers' most common questions.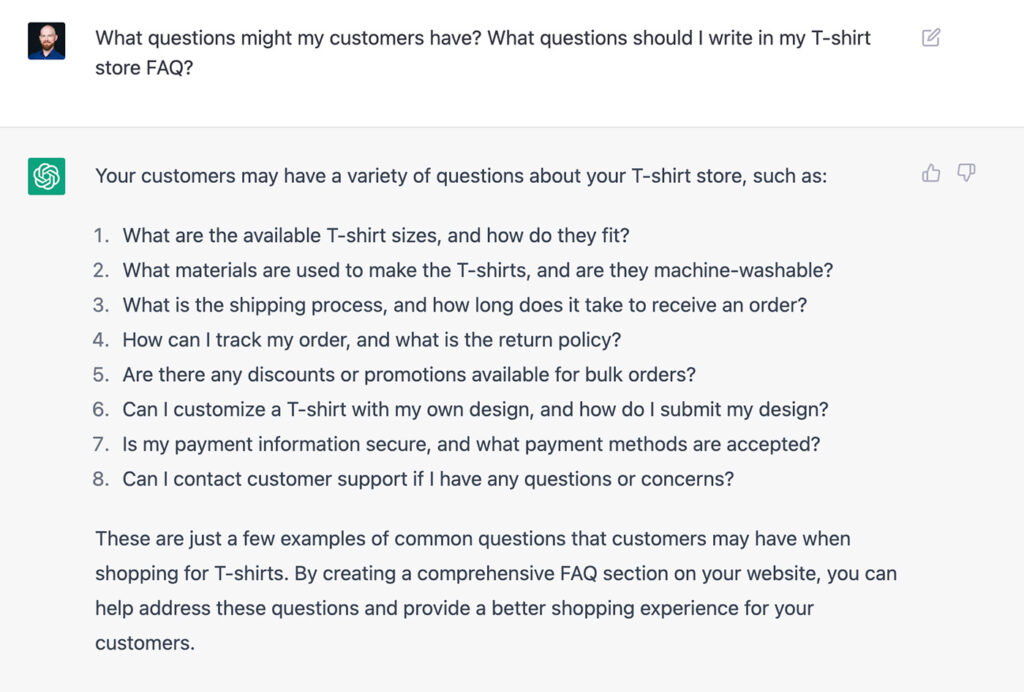 Idea generation
Coming up with new and creative ideas (product ideas, names, etc.) for your online store can be challenging. ChatGPT can help you generate new ideas that can help your store stand out from the competition.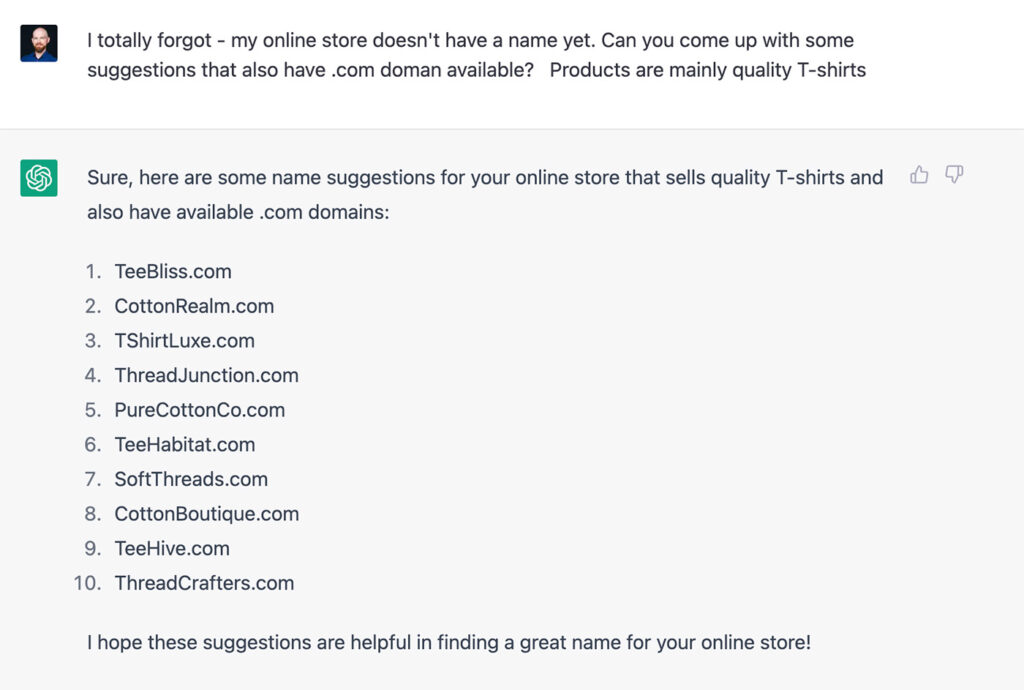 SEO and keyword research
Search engine optimisation (SEO) is essential to any online store's success. ChatGPT can help you conduct keyword research and optimise your content for search engines, which can help your store rank higher in search results.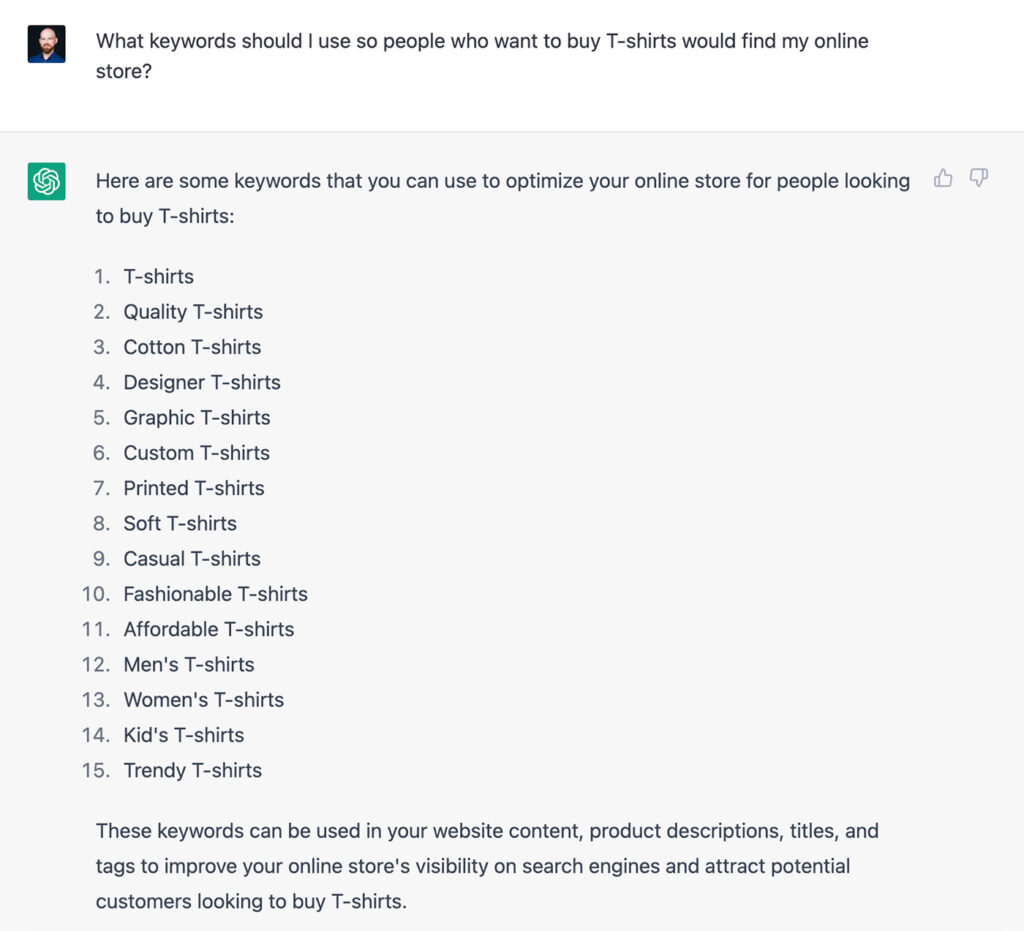 Is there a good alternative to the word "T-shirt"? ChatGPT can help you find out.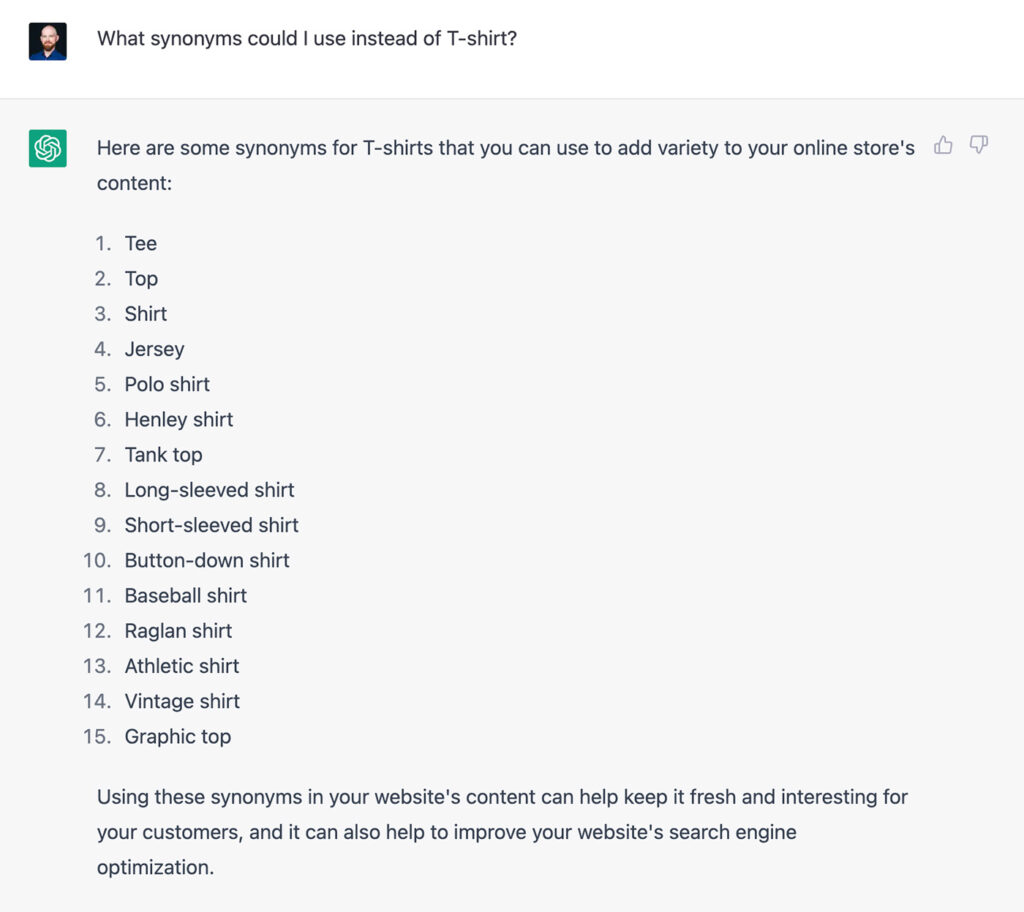 Customer service
ChatGPT can help you create an AI chatbot that can handle customer support queries, replacing the need for an FAQ section. The chatbot can be integrated with API to help customers with order tracking, returns, and other inquiries.
Keeper Tax, for example has integrated OpenAI's API into their app to create a conversational interaction.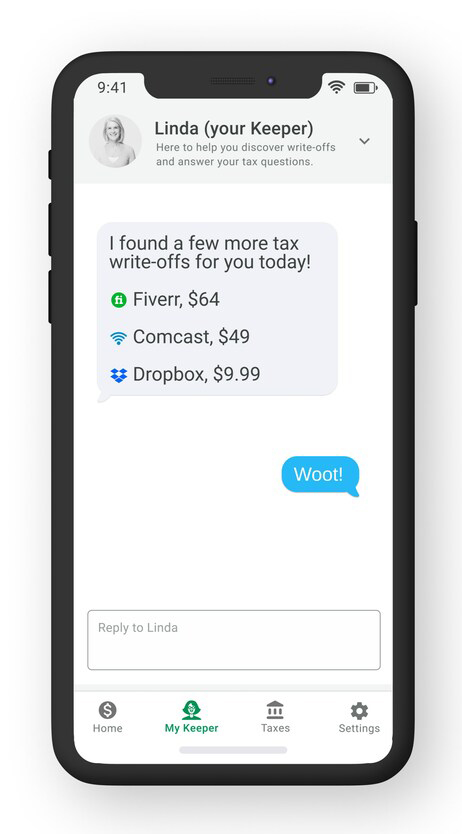 In conclusion, ChatGPT can provide a wide range of services that can help your online store succeed. From writing code to creating content and developing social media strategies, ChatGPT can help you save time and resources while improving the customer experience on your store. Best of all – thanks to the chat-like interface, using ChatGPT feels like talking to a wise and helpful friend.